"Love is just a word until you find someone who gives it a definition"
Often described as the one of most romantic cities in the World, Paris is definitely the perfect place to pop the question. Where else on the globe could you find a city more glamorous and filled with so much love and beauty? The concentration of culture, fashion, cafés, food, wine, art, and rich history all in one place is truly astounding ! Most notably, the beautiful and unique architecture that the city has succeeded in preserving sets romantic Paris apart from all others !
Once again, I was delighted to collaborate with Rendez-vous in Paris , destination wedding planner, for another amazing event. We were extremely excited to realize Mike's vision, who clearly wanted to do things in a big way. He was more than willing to plan a Proposal in Paris that matched the deep love he felt for Mink, his gorgeous girlfriend. Mike, a young, successful, and handsome man based in Cape Town, was very open minded to all suggestions but wanted to have a projected pop up message near the Seine River.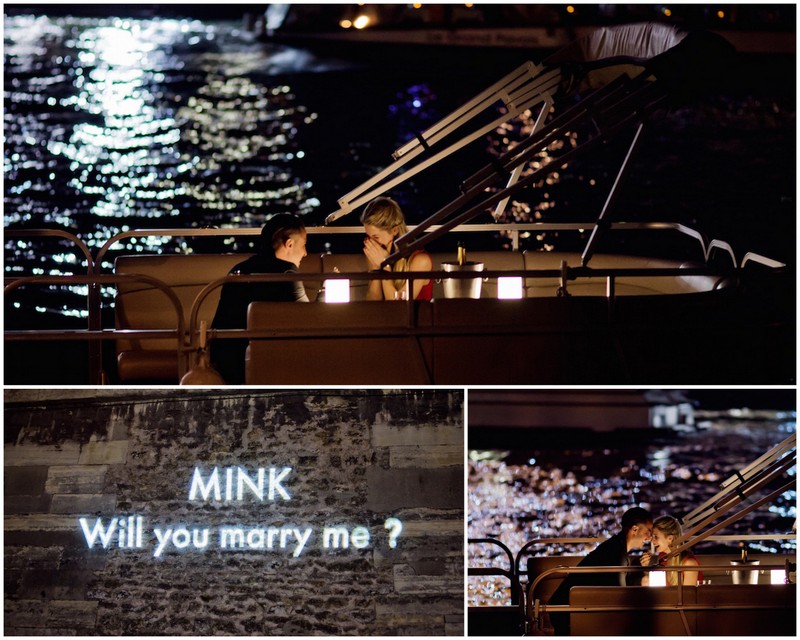 How does popping the question right under the blinking Eiffel Tower sound ? Considered as one of the main tourist attractions in Paris, the Eiffel Tower gets very busy at night, providing little intimacy for couples. Having a private boat tour on the Seine River appeared like the perfect solution, but we had to make sure that the boat would arrive at the right spot, at the perfect time.
We meticulously created a perfect time line, and I was personally honored to see that all the vendors were ready to go above and beyond their duties. The light & sound engineering did a couple of trial runs to ensure the message would be seen by Mike's girlfriend, yet wouldn't attract too much attention. They worked hard to create a beautiful and private moment for both of them. It was also essential to capture this proposal on film, these pictures would certainly be treasured for years to come. The talented Flora Chevalier had to deal with a few constraints including shooting at night, the motion of the boat, and working from quite a distance. The day before we did a little trial walk through and got everything perfect.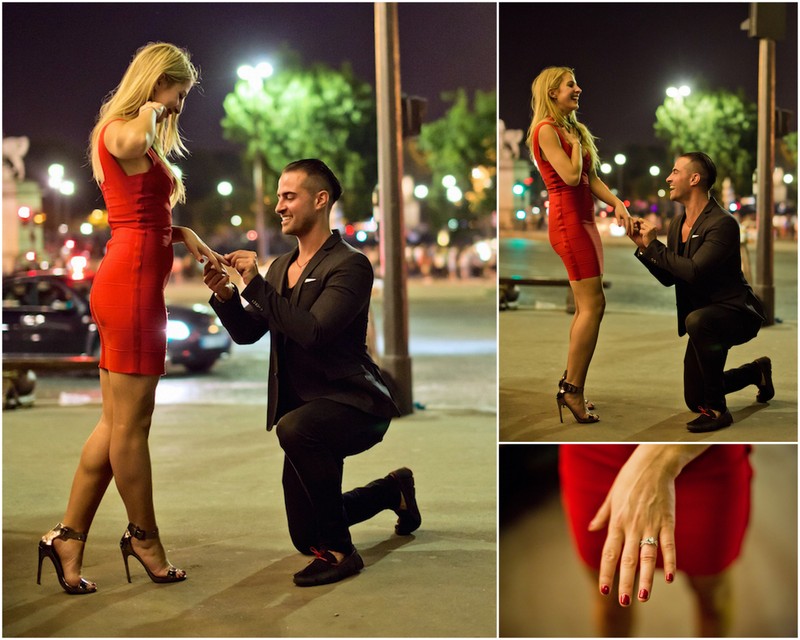 This late July afternoon was warm and beautiful, a light breeze cooled down the air, and I was crossing my fingers everything would go as planned–for everyone! Around 7pm, Mike & Mink headed to a fine dining restaurant located on top of the highest tower of the city. Roasted Mediterranean vegetables, lemon cream with peppermint, tanguy salpicon, and tarama flavored with wasabi are the amazing dishes that one can savor there, perfectly paired up with premium champagne. Later, a taxi escorted the couple to the docks, not far from the bridge Pont des Arts, famous for the love locks that used to be attached as a proof of eternal love. There, the captain of a private boat welcomed the couple aboard.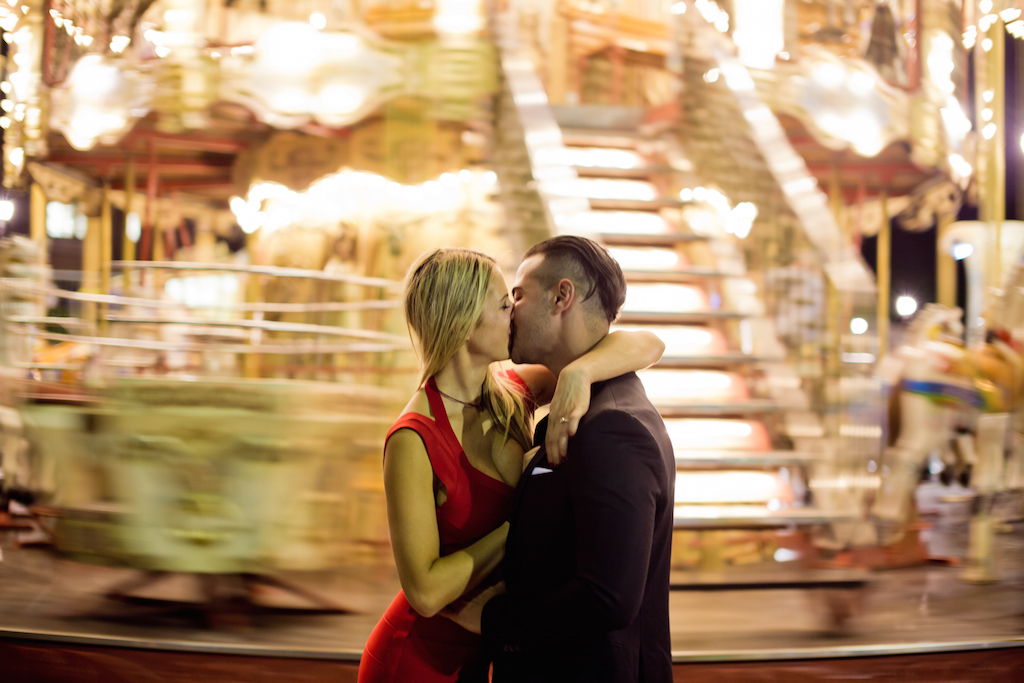 The cruise started around 9.30 pm, peacefully sailing down the Seine River with some chill out music and more champagne and macaroons. The couple enjoyed some of the most gorgeous and romantic sights of Paris. Notre Dame de Paris, Le Louvre, and le Grand Palais are a few of the monuments Mink was discovering for the very first time ! Paris, the city of lights, reveals its pure elegance at night. How delightful to experience that while sailing with the one you love ! The pressure started to grow as the clock hands were turning.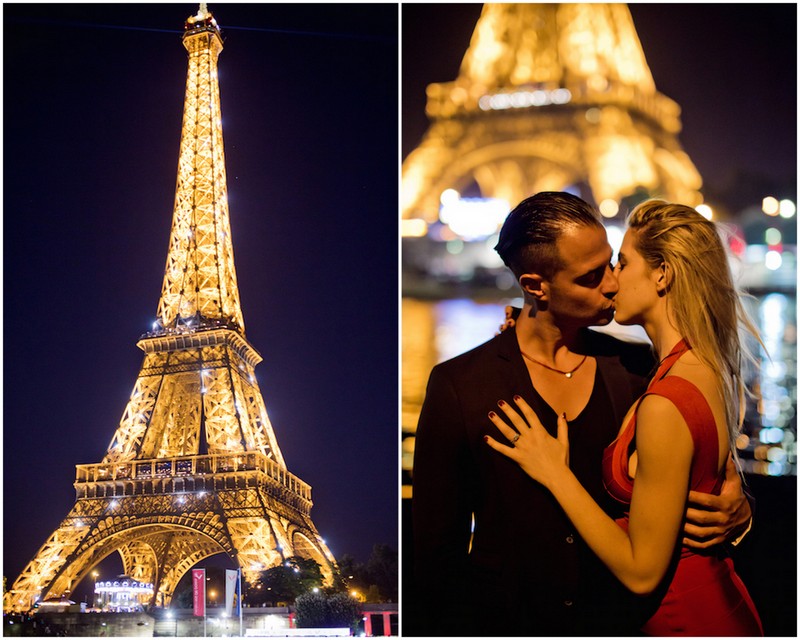 At 11pm, the private boat passed under the stunning 'Iena Bridge', unveiling the magnificent Eiffel Tower blinking just for them. Mink was nestled into Mike's arms, staring at the beauty in front of them. Mike asked his girlfriend to turn and look over in the opposite direction. She discovered, speechless, the projected message that was waiting for her. Mike went down on his knee with a gorgeous diamond band. When she said yes, all the pedestrians clapped, and so did we ! That was definitely a beautiful and emotional moment of true love that @Flora Chevalier managed to capture perfectly with her lens.
May love, happiness & joy surround your life !
SUMPTUOUS EVENTS destination wedding planner in Paris ( organisation de mariage )