Today in the blog, we are talking about wedding proposals. If you are planning to propose to your girlfriend or looking for wedding inspiration, this article is made for you. I hope you enjoy the reading.
Sumptuous Events has become one of the top luxury leading event planning in Europe. Although the planning of a wedding is what we are most known for, we also become experts in planning wedding proposals for overseas couples. Actually, we have some epic wedding portfolios in our records. Remember this infinity proposal planned at Shangri La Hotel Paris, or this royal event for a Persian couple at Vaux le Vicomte Castle. In addition, most recently I have designed what can be one of the most lavish Paris wedding proposals that I will share very soon. It made me want to share a bit more about this service we offer.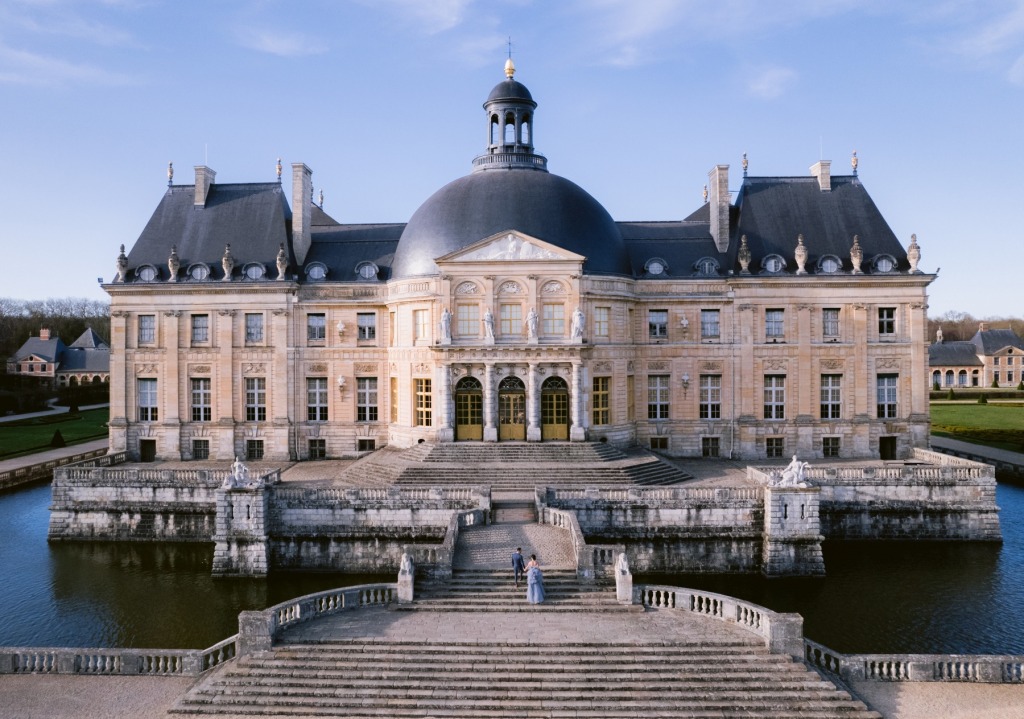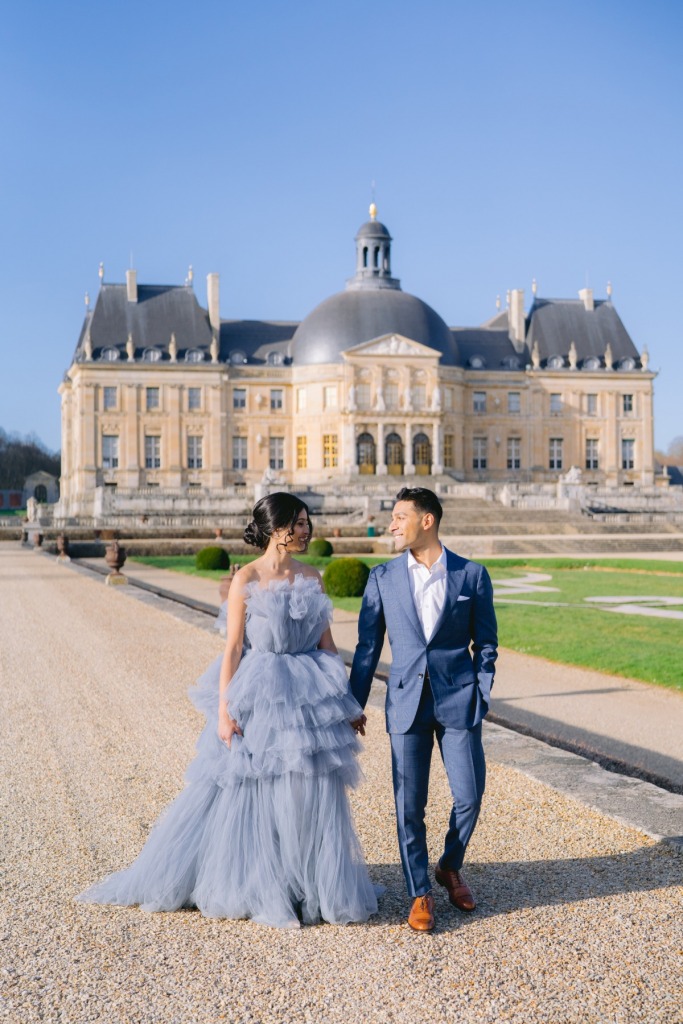 The approach to planning a Paris wedding proposal is different because we are only talking to a man who is secretly arranging to propose to his girlfriend. ( As opposed to talking mainly to the bride when we plan a luxury wedding ) I am always excited when I receive a new inquiry on our contact page. The message is usually brief with a precise date. It always seems we are going to be part of a James bond mission. Since I adore planning surprises, I am always up for it. If you give me what it takes to blow your girlfriend's mind, we will create magic. The goal is pretty much always the same. Make her cry first, and make her understand how big their love is. Quite a challenge! 
I have put together a little guide on the top 5 questions that may come to your mind when planning a surprise proposal in Paris. The article is illustrated with a recent proposal we plan at Vaux le Vicomte Castle for an Indian couple. All the pictures are from Le Secret d'Audrey, one of my favorite Paris wedding photographers. They were actually so cute. If we had more time, I could specialize in doing only this. But everyone knows how much I also adore planning a super lavish and elaborate wedding. A Paris proposal guide is what you need.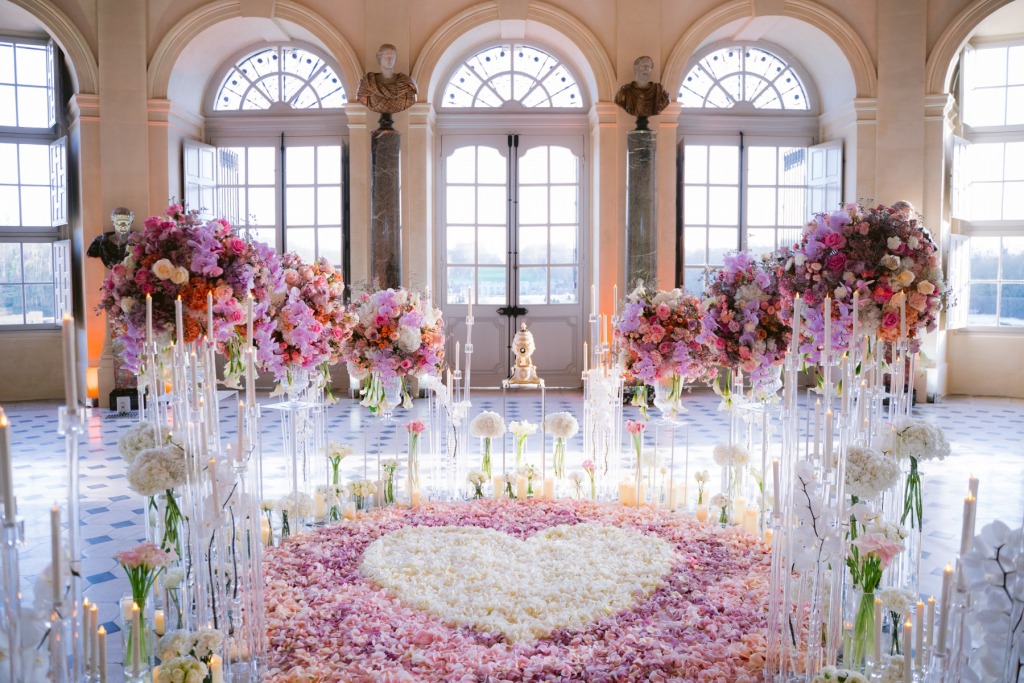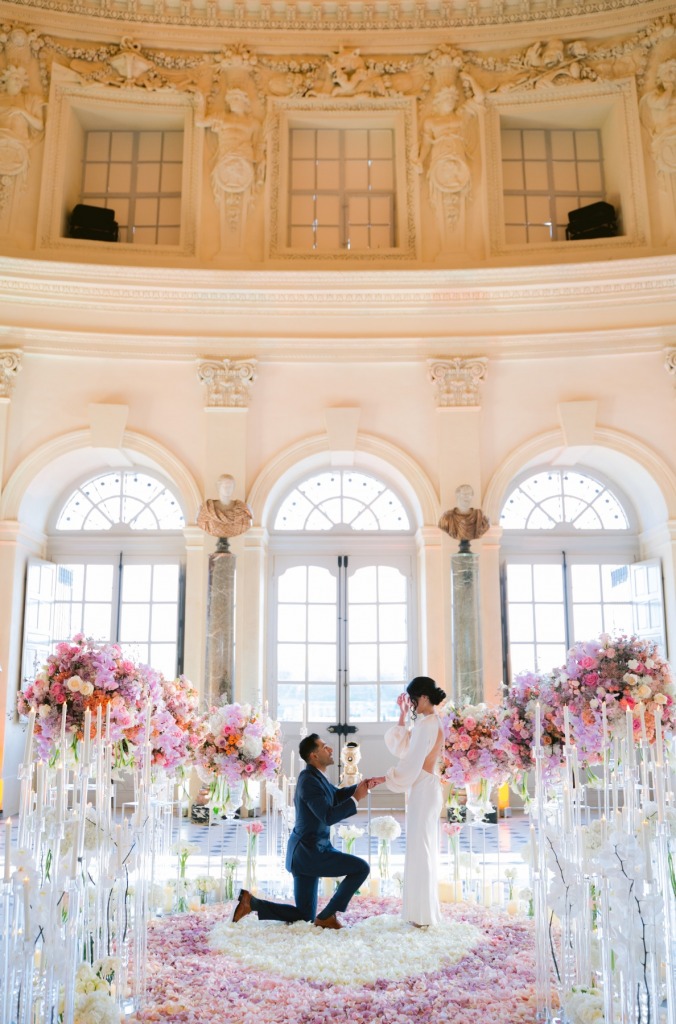 What are the best spots to propose to your girlfriend in Paris?
Paris offers many wonderful backdrops for a wedding proposal. It is also where Sumptuous events, a luxury destination wedding planner, has established its headquarters. There must be a reason why we call it the city of love. If you have recently watched the show, "Emily, in Paris" on Netflix, you may have rediscovered the wonderful and quaint Parisian aesthetic in a different way. Doesn't it scream love on every corner? Moreover, it is often associated with fashion and glamour. Many women will dream to be asked their hands in Paris. After that my favorite spots within Paris are :

If you are willing to travel a little bit outside Paris, I honestly always recommend you this solution. It requires more budget. First of all, there is a bigger venue with a much bigger garden. Additionally, there is the possibility of hosting a private firework. My favorite spots outside of Paris are :
Of course, we can plan a wedding proposal anywhere else. My second top city to propose would be Venise and the gondola ride with the wonderful sunset on San Marc Plaza. I would also think that a Mykonos backdrop would be quite epic, if you are into the type of beach celebration, followed by candlelight dinner in the sand. If your heart is set on a Miami wedding proposal or a New York proposal in central park, I'm always willing to get on a plane!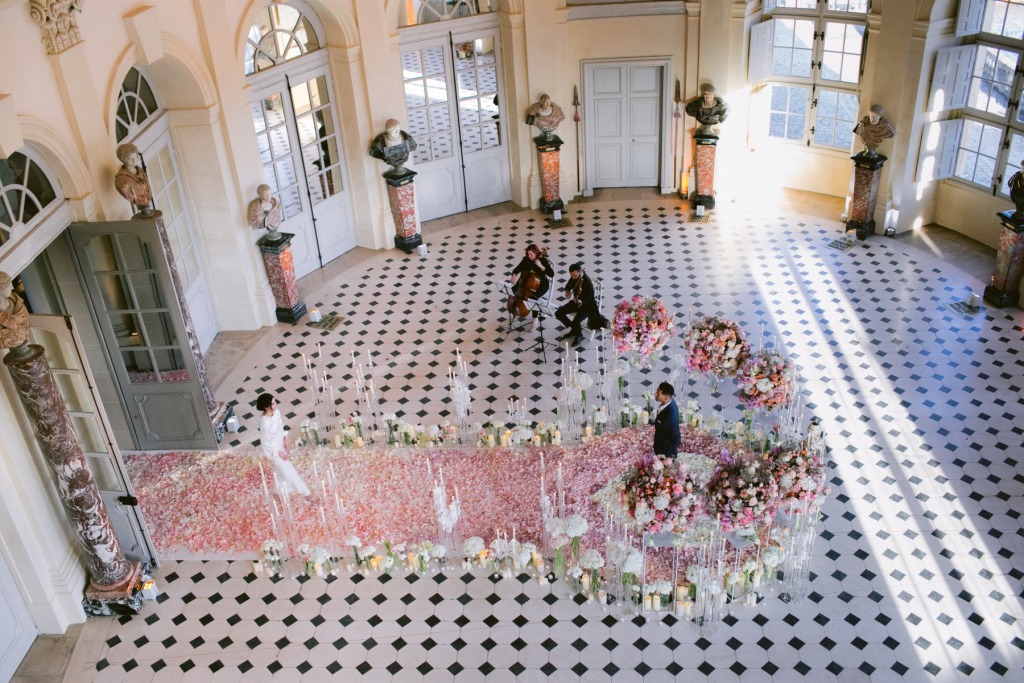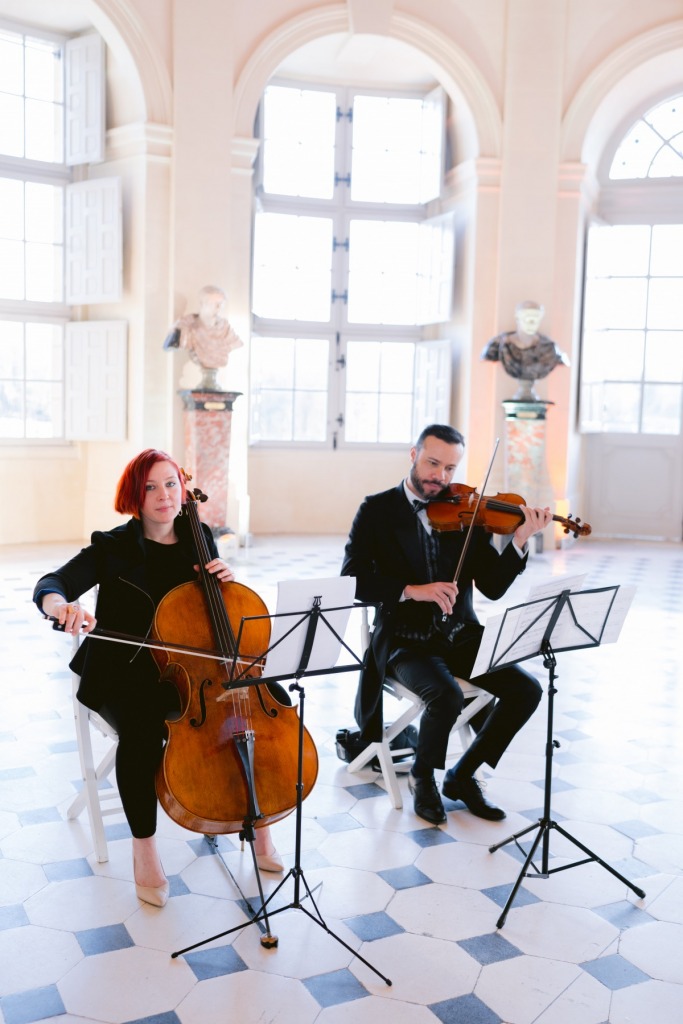 What is the best scenario to propose?
I like to recommend a scenario that gives some time to build the excitement. For instance, I recommend waiting a little bit to propose when you arrive at the venue that you have privatized. Your girlfriend probably senses that something is going on because you are most likely going to act nervous. Music and entertainment add up a lot to a wedding proposal. Additionally, You can have a quartet playing your most special song, or a jazz band with a female singer.
When it is possible, I love to make the evening look like a living show with different appearances of entertainment that will spread the night. it is nice to do a seine river cruise before or after. Mostly I recommend setting up a tablescape with a private dinner. In addition, you can decide to propose to your girlfriend at the end of the evening with fireworks popping up when you pop the question. Paris wedding proposal guide is always useful.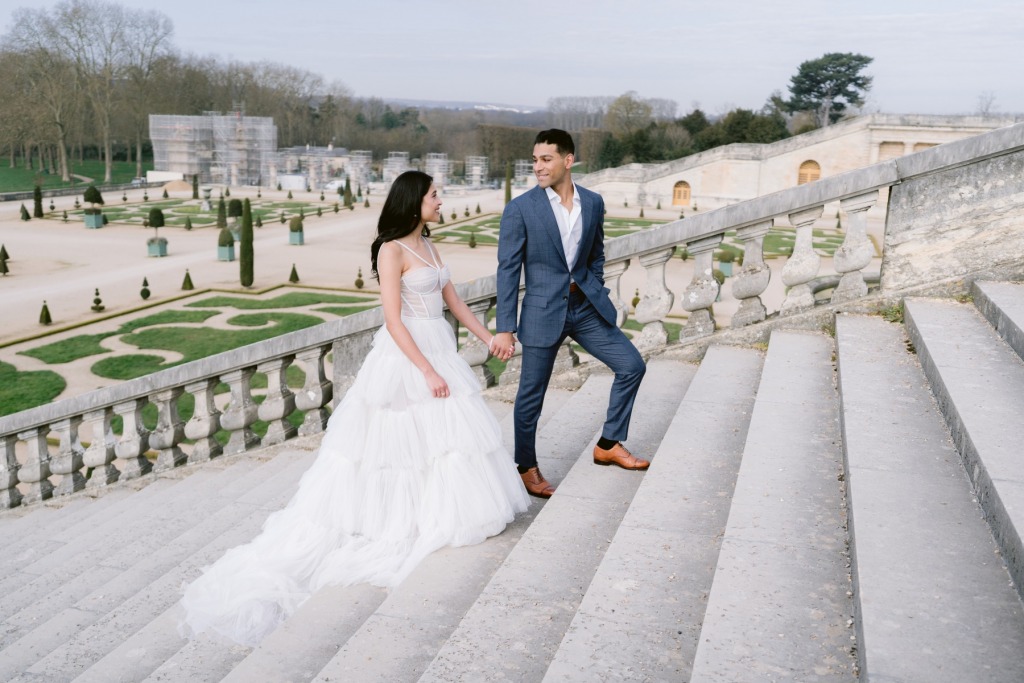 What are the things that I recommend doing?
The biggest thing I recommend to any of my clients is to let go the control and enjoy the moment. The reason you have hired a Paris wedding planner is to have someone be in charge of the event planning and the execution and coordination. The more I feel trusted by the couple who hire me, the best I work. It can be challenging to delegate when you are yourself in charge of hundreds of employees and used to surviving everything.
I recommend not to carry the wedding ring with you. We can keep it and hide it for you in the decor. This will alleviate the stress you may have. On top of that, I always recommend you to dress the part. You will keep and frame those pictures forever. Hiring a hair and make-up artist for your girlfriend to look amazing. Just tell her that you have organized a photoshoot session.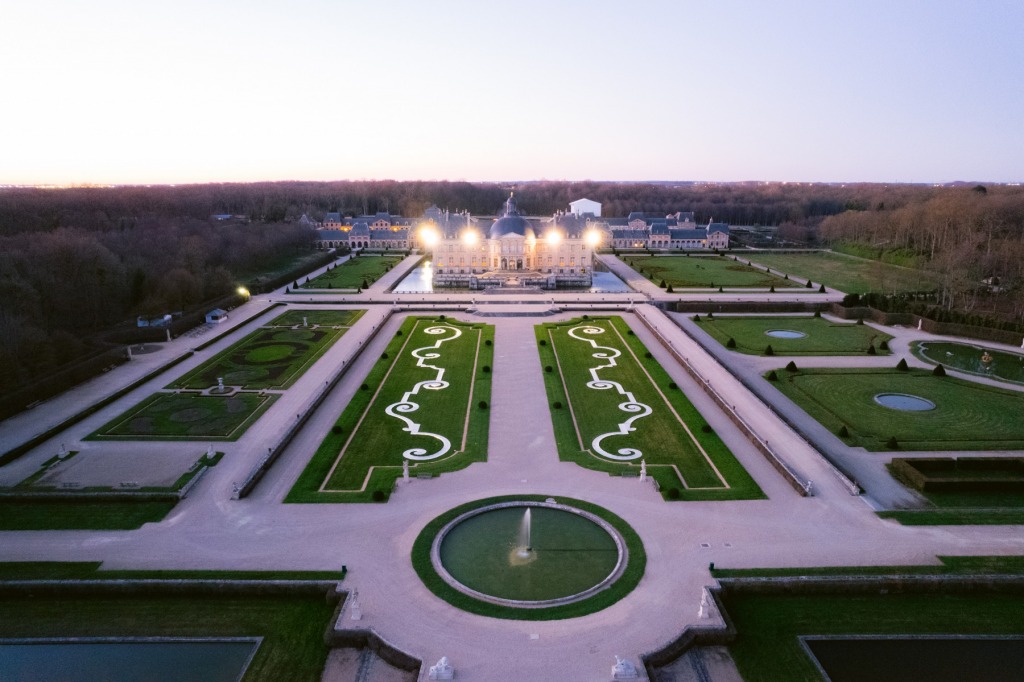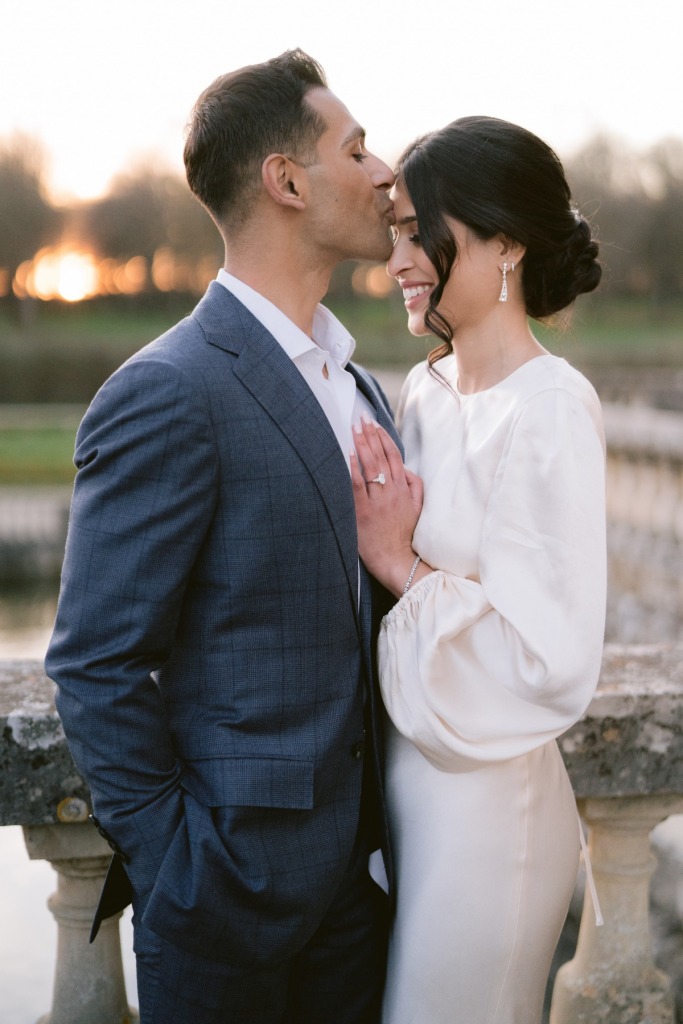 How much cost a luxury proposal exactly?
The money talk always seems to be a little taboo. I see this because the number of times we are been ghosted after sharing ideas of the budget is pretty astonishing. Instagram doesn't have a price tag, therefore, for most people, it always comes as a big surprise when we announce to them that luxury events come with a price. In addition, they are a few of agency that specializes in proposal packages for less than €5K. They probably maybe the fest fit for someone who doesn't need too much customization. If you are looking for something simple, I'm not sure Sumptuous is the perfect match. Funny enough, we still get lots of requests for simple decor.
My idea of a Paris wedding proposal is an opulent extravagant way of showing your love. I probably organize less than 8 wedding proposals per year. To give you a price range, I would say that spending €20K to €30K will be a good start and will allow you to have a good experience. Prices of luxury suppliers like photographers or videographers add up quickly.
The privatization of a luxury castle near Paris will start at €10K. A wedding proposal floral decor can start around €8K and can go a lot more up. I love designing big decor that I present to you in a 3 dimension rendering.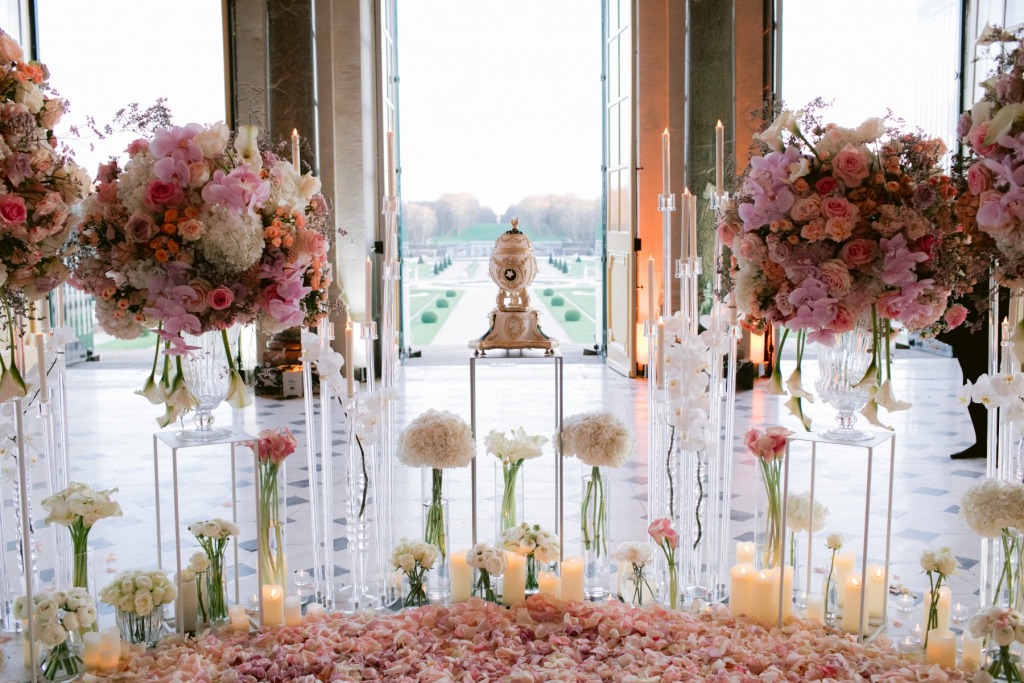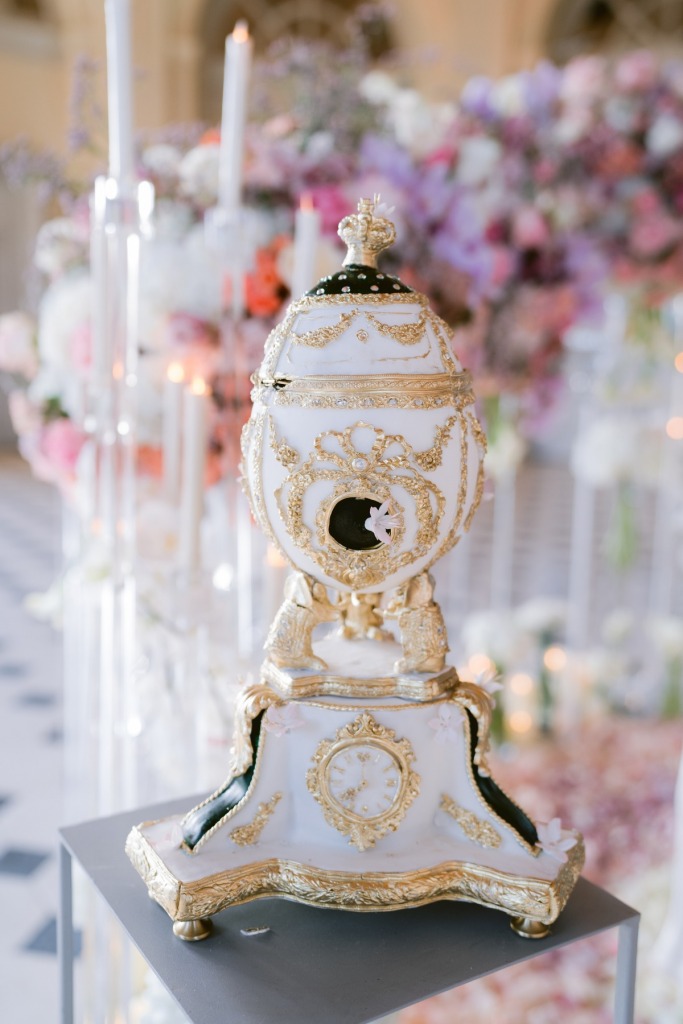 What is the best month to plan an event in Paris?
Summer and spring are the best months to plan an event in Paris. From June to September, there is an unlikely chance of rain. The temperature rises up to an average of 28 degrees Celsius. I recommend avoiding weekends, which may be busy with weddings or other bigger events. February is also very popular because of Valentine's day. Of course, Christmas time is the ideal month to propose. The season holiday brings the best out of people and lifts everyone's energy.
How long in advance do I need to book your wedding proposal service?
We are capable to plan a large wedding with 300 guests within a month and a half's notice. It may sound crazy to you, but the most significant wedding and events we have planned are usually last minutes. in order to be responsive and available daily, I can't take more than a project per month. I recommend a minimum of a month in advance for planning a wedding proposal. Moreover, when time is limited, the couple tends to make quicker decisions. versus being hired a year in advance may lead to dragging conversation about the smallest details that don't really matter in the end.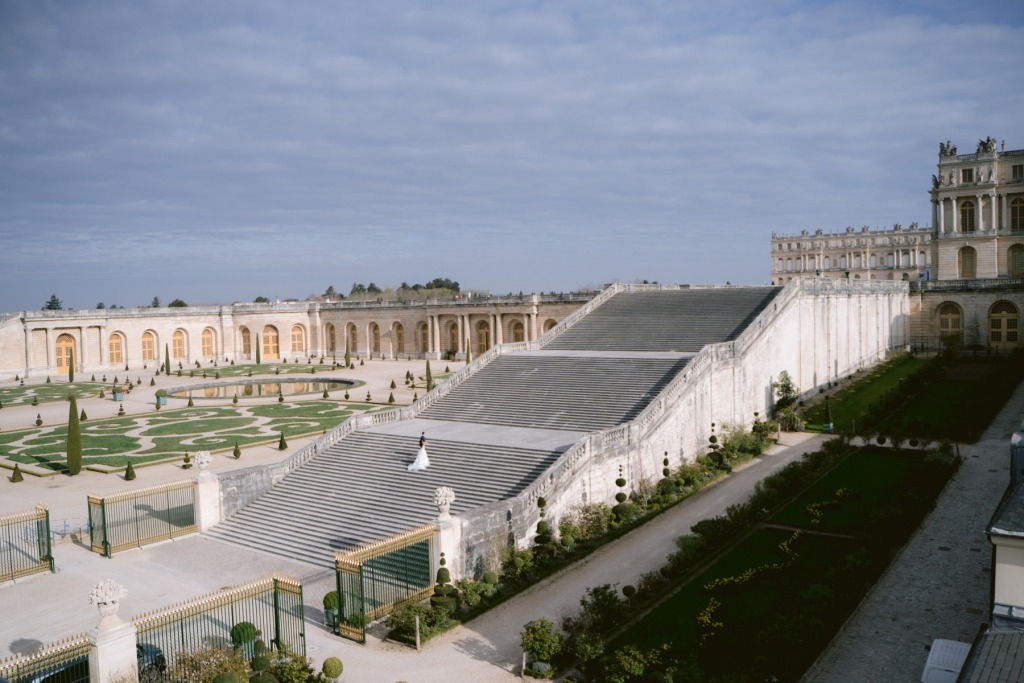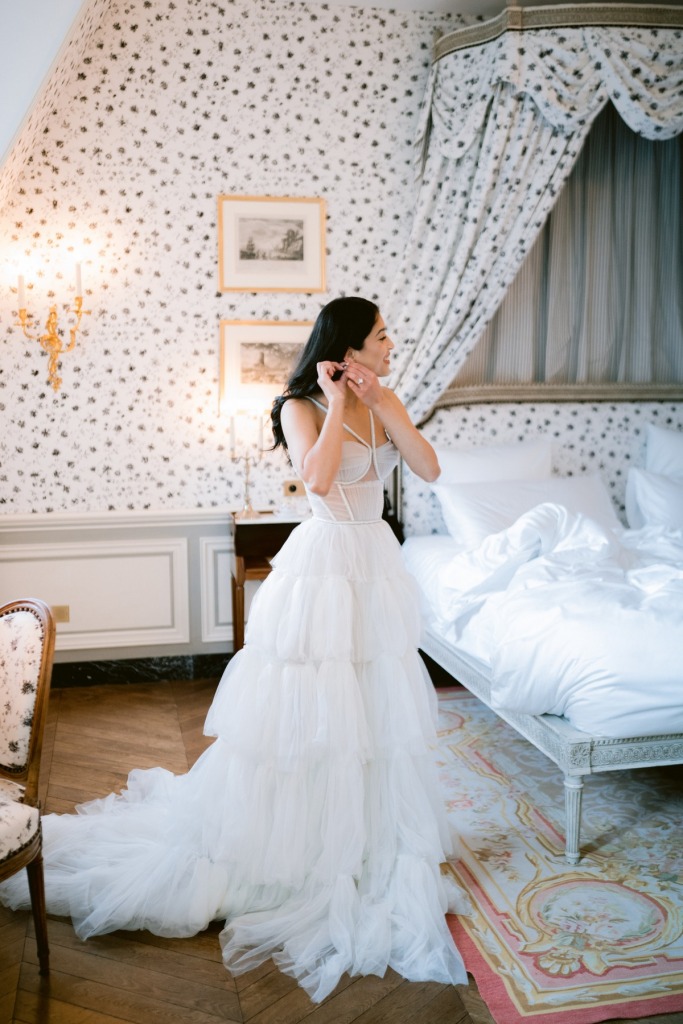 In conclusion, did you know that 2.5M couples are expected to get married in 2022? That's 15% than usual and it is due to the post covid effet. Furthermore, that means a crazy season for not only brides and grooms, but also their luxury wedding planners, wedding photographers, and their wedding guests. It is not only the number of weddings that is increasing. I have noticed a 25% increase due to inflation and higher labor costs. If you are willing to put together the big luxury proposal of the year; I will be happy to be your man! Connect with Sumptuous Events; the leading French luxury wedding planner