I need to be honest with you, the more I live in Paris, the more I love it ! Paris is seriously addicting for fashion, culture and great food connaisseur. It's actually endless, there is always something new opening somewhere. Not only do we love planning luxury destination wedding all over France, and Europe, but one of our success is to offer to our brides & grooms a luxury concierge service. We love to recommend the best places and we definitely have the best hand picked contacts ! We have now included in our sumptuous amazing team Miss Anaide, our amazing venue finder and newest wedding planner in the agency, that we will have the pleasure to introduce to you very soon, in a full dedicated article !
Until that, and to warm up the last few colds days of the winter in the city of love, we have selected our 10 favorites and best brunch in Paris. Let us know your thoughts, and enjoy your week end with #love !
1. 'The Shangri-La Hotel Paris'
We couldn't write this article without mentioning once again one of our favorite palace in Paris. Now, picture the brunch of your dreams : A gastronomic hybrid brunch comprising several buffets and a choice of two main dishes served directly at your table. The service is beyond excellent ! It does feel like heaven the minute you get in the hotel ! On the drinks side, think about freshly squeezed fruit juices, best coffees and teas in the world carefully selected. The "French-Asian" Brunch is an unusual theme for Paris. 'The Bauhinia' restaurant reserves some culinary surprises for you : Exotic salads, a decadent crème brûlée made with foie gras, or a jazzy wasabi mousse. Truth is one doesn't know where to look. That's 'only' the restaurant, this about how fabulous your wedding would be celebrated there !
Shangri-La Hotel, 10 Avenue d'Iéna, 75116 Paris – Téléphone : +33 1 53 67 19 98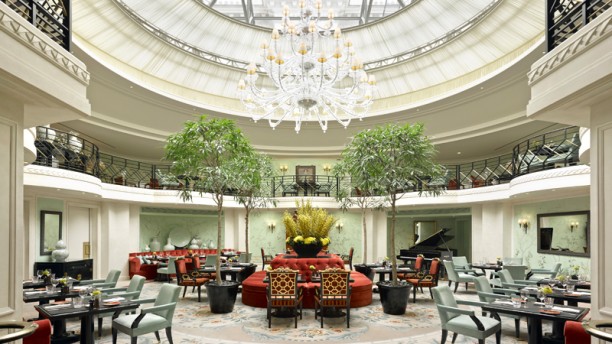 2. 'The 1K Hotel'
Try the new 'brunch sonore' ! 1K that stands for Inca. This venue, that we absolutely adore, and featured on the article picture, is one of the most luxurious hotel in the famous Parisian district : Le Marais. The restaurant has the same name ! You might be surprised and bewitched by the ethnic & modern decoration, the amazing outdoor terrace, the inspiring ceiling and most of all, that deep royal blue that make us want to stay ALL day dreaming. The delicious gourmet cuisine crafted by Chef Julien Burbaud, coming from the Robuchon School, is offering contemporary & exquisite dishes to share : Parihela fish with red quinoa, Seco lamb in his 'saltadi' juice, Harenga Caviar, grilled octopus with violet olives. And for the dessert, what about Lucuma : a subtle mix of Oreo, caramel passion and coco flavour, or the Maracuja : passion fruit chocolat sponge cake. We let you discover this 'little' jewel by yourself. You might be under the spell too !
* Le 1K, 13 Boulevard du Temple . 75003 Paris +33 (0)1 42 71 20 00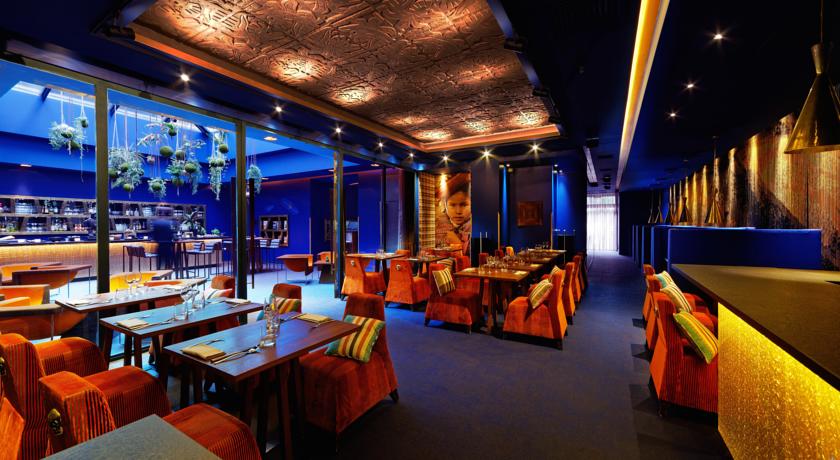 3. 'The Four Season George V'
For a total luxurious and divine start of the day, you can first consider the stunning Japanese breakfast in the light-filled royal dining room of the Four Seasons George V Palace. It might not be a proper brunch, but still one of the best 'Petit déjeuner' you will find in the capital ! Everything is beautifully prepared and you won't want any other food during your day than a late light supper after breakfasting on miso soup with premium tofu, nori seaweed, japanese omelette, spinach with sesamy seeds, salmon sashimi, & daikon turnips with the bets soy sauce. A green tea is the perfect pairing with al those asian dishes ! Of course, the venue itself is a pleasure to admire. The details are absolutely luxurious. The floral composition that adorn the hotel lobby all year long leave us speechless.
* The Four Season George V, 31 Avenue George V, Paris 8th, Te : +33 1 49 52 71 54,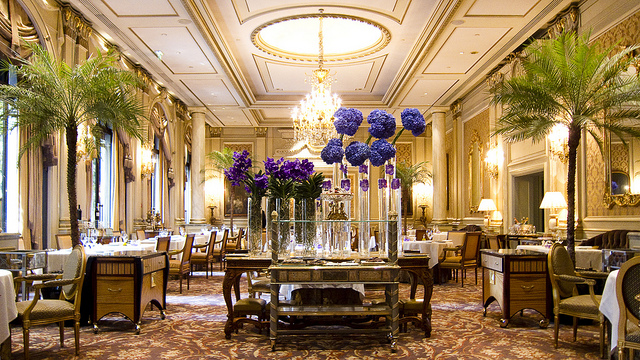 4. 'The Plaza Athénée'
If you are looking for one of the most memorable dining experiences to date, le Plaza Athene is just the right place ! Upon entering the glittering & sumptuous room, you will be given a choice of international newspapers. You can then expect a culinary journey unlike any others : the "Haute Couture Brunch" : A variety of French baguettes with selection of fabulous jams & Chef Alain Ducasse's homemade signature chocolate hazelnut spread. Home made yogurt perfectly arranged with fresh tropical fruit plates, finest coffees and bubbles ! At Plaza Athénée, the service is a true art form, just like a graceful Opera ballet. Each fine details appears effortless, yet ,we all know that an incredible amount of preparation goes on behind the scenes !
* The Plaza Athénée, 25 Avenue Montaigne, 75008 Paris ; Téléphone : +33 (0) 1 53 67 66 65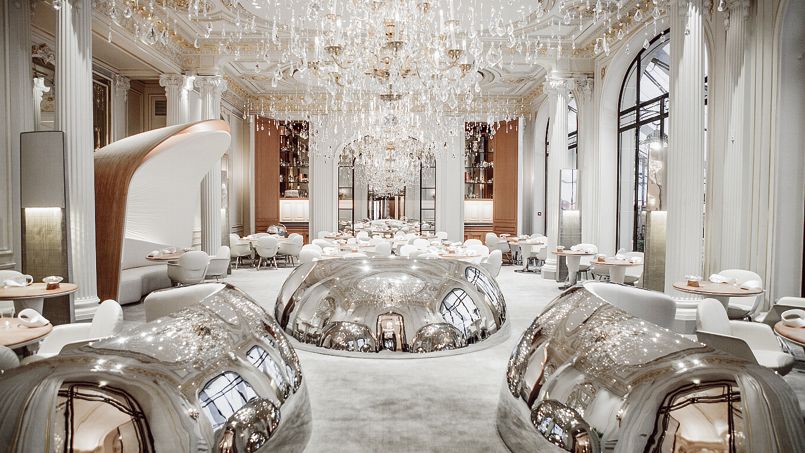 5. 'The W OPERA'
Located in one of the nicest area of Paris, the W and it's modern and refined Coquette restaurant welcome another 'Haute couture' brunch every Sundays. It's a perfect combination of French gastronomie & fashion. Enjoy the 'Do it yourself' activity, or get your hair cut while Madame is finishing her glass of champagne after a 45 min yoga session ! Might be a little difficult to understand the concept until you actually experience it : Potimaron Soup, Ginger infused boiled fish, Quinoa Salads with grapes, cocoa oil and basil leaves, goat cheese with avocado spread, warm green apple are some of the surprising dishes served at the brunch. We have a special mention for the 'no worries' formula, that take in consideration food allergy and vegan diet. Since most of our americans couples are sponsoring vegetarian and vegan food, that is certainly a place you would love to visit !
* The W Opéra, 4 Rue Meyerbeer, 75009 Paris – Téléphone : + 33 (0)1 77 48 94 94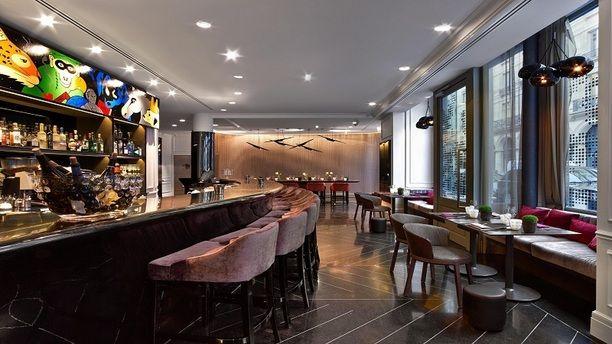 6. 'The Kube Hotel'
'La Table du Kube' is definitely is a fantastic place to check out in Paris, you will discover a surprising & evolving cuisine artfully orchestrated by the chef Jean-Baptiste Ascione, exercising his creativity daily, and assisted by his suppliers who select and deliver their best product, prepare for your pleasure according to that sumptuous inspiration, sublimated with passion and always perfectly served ! Jean-Baptiste Ascione always go beyond the extra mile, and accept the challenge of creating a Dégustation Menu with 4 or 6 course menus in which he have 'carte blanche' to surprise and leave a lasting, delightful impression on each of their clients. The KUBE hotel also hides a pure jewel : 'The Ice Kube Bar', which reinvents its looks every year. Taking its inspiration in the North Pole in order to introduce a new environment for the Parisian, and visitors. To warm up the experience, try out the dance floor and enjoy the cosy lounge area adjoining the ice bar!
* The Kube Hotel, 1-5 Passage Ruelle, 75018 Paris – Téléphone :01 42 05 20 00

7. 'NOLITA'
Very Chic deep black that we love mixed up with white interiors and sexy beautiful curves give Nolita a minimalist & trendy atmosphere favored by a fashion crowd of Parisian and 'crème de la crème' visitors. Chef Vittorio Beltramelli, Alain Ducasse-trained will surprise your palate with his incredible 'brunch à l'italienne' : a lavish & sumptuous buffet compose like a finest piece of Mozart : carpaccio of swordfish, best parmesan shavings on a bed of bresaola, sundried tomatoes , saffron rice dumplings, stuffed focaccia and of course, the choice of two hot Italian dishes. The experience continue with a healthy spread of desserts: Panna cotta, walnut pie, or the signature croissants filled with cream, called The Cornetti. The most gargantuan of appetites will be certainly satisfied ! Enjoy the one million dollars view from the balcony which looks out over the Grand Palais. Make sure you book in advance, it is incredibly popular for the right reasons !
* Nolita, 1 Avenue Matignon, 75008 Paris Téléphone : + 33 (0) 1 53 75 78 78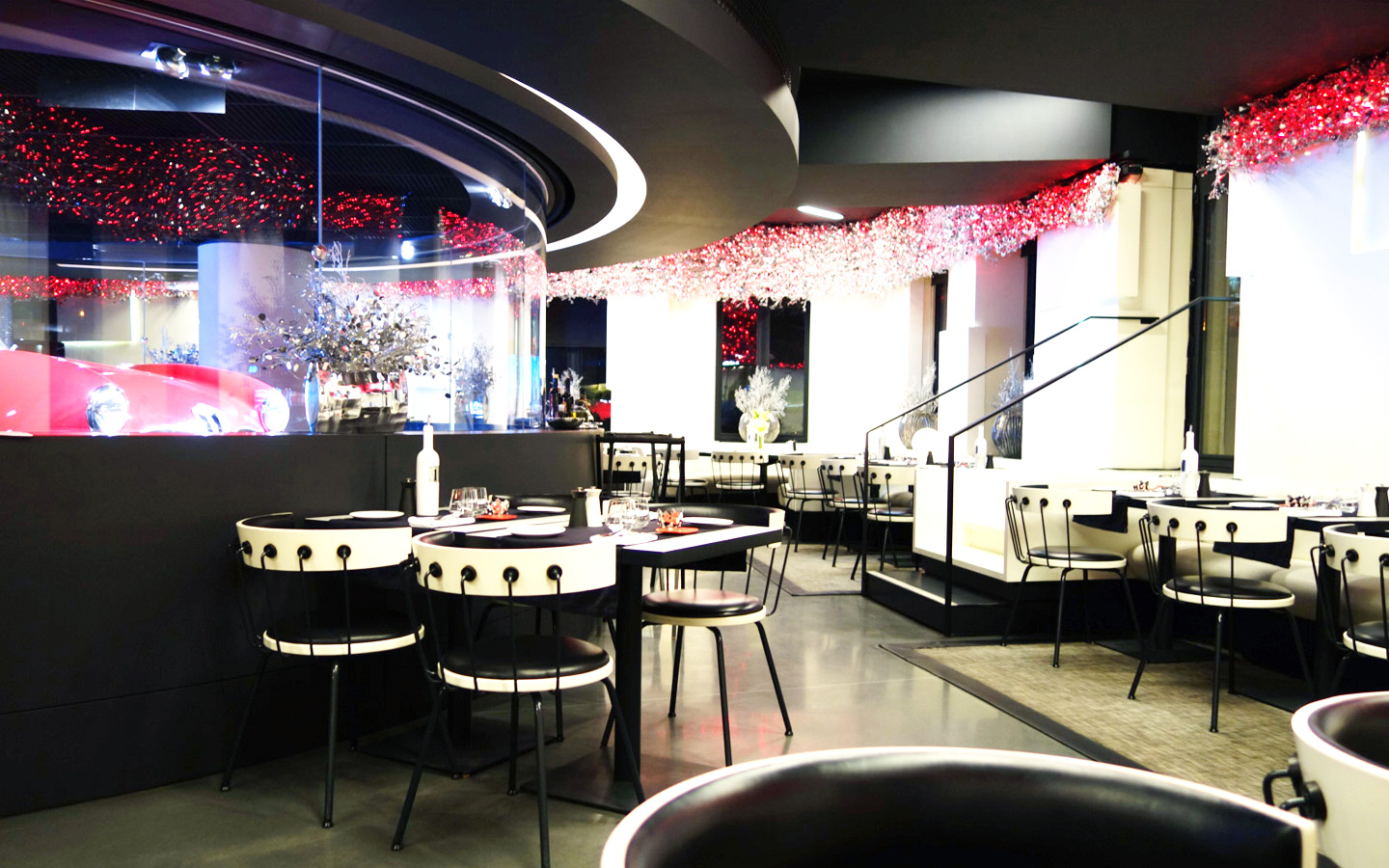 8. 'Un Dimanche à Paris'
The level of refinement is just incomparable here. An upscale brunch is served on Sundays in this concept store dedicated to cocoa. Only premium products are served: Poilane bread, & slices of Iberian ham. As part of the menu, you also get the foie gras with pear & a glass of chill Champagne with 'creme de cassis'. Isn't it mouth watering ? There are also madeleine, mini-éclair, slice of cakes. It might comes with a price, but you only live once, and you know you deserve it ! The venus also serve one of the best hot chocolates in Paris, literarily made with real melted chocolate, premium milk, little cream and a touch of cinnamon and vanilla. We are dying over here with the 'chocolates , there are far too many to try !
* Un dimanche à Paris, 4-8 Cour du Commerce Saint André – Paris 6ème – Tél: +33 1 56 81 18 18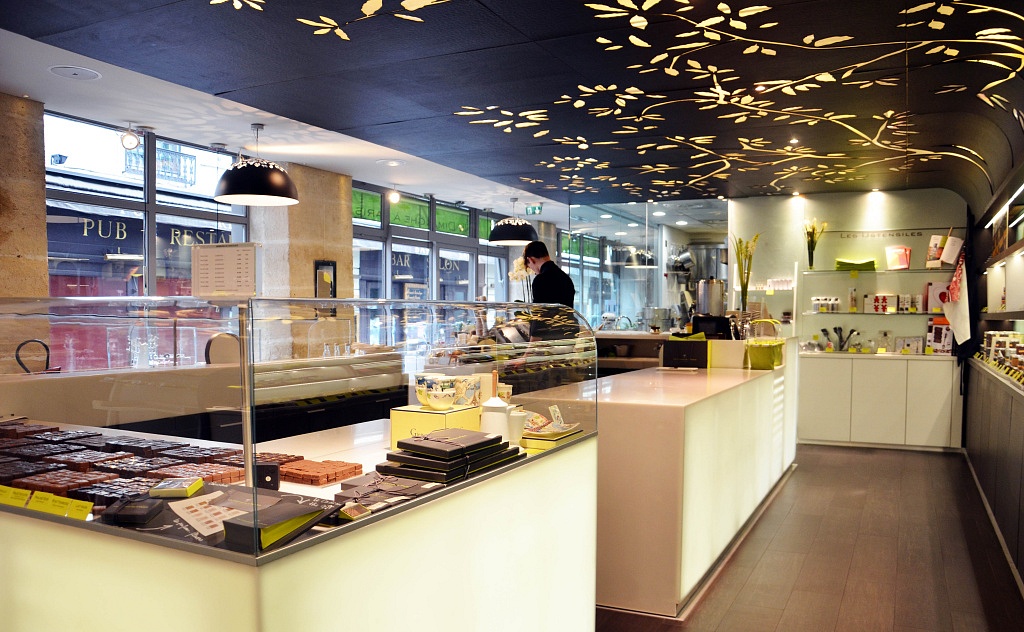 9. Pershing Hall
Becoming extremely popular, Pershing Hall is THE place to be on sundays. Located in the trendy 8th district of Paris, a short walk from the Champs Elysées Avenue, that charming 'Hotel Particulier' transformed into a luxury hotel serves an excellent brunch in the central patio, enhanced by a natural light. Everything is house made, and delicious. Starts with a hot freshly brewed beverage, a fresh mango or apple juice , then you can fall in love with the exuberant buffet that serves about everything from éclairs au chocolat , fresh croissant, macarons, marshmallow, the typical 'cannelés', brownies, crêpes and pancakes station with home made chocolate spread, honey, and maple sirup. The sushis station made right under your eyes is to die for ! Homos, mini burger, quiche, french cheeses, taboulé.. what else shall we expect ? Almost forgot, a friendly and warm welcome from the staff !
Pershing Hall, 49 rue Pierre Charon – 75008 Paris . +33 (0)1 58 36 58 00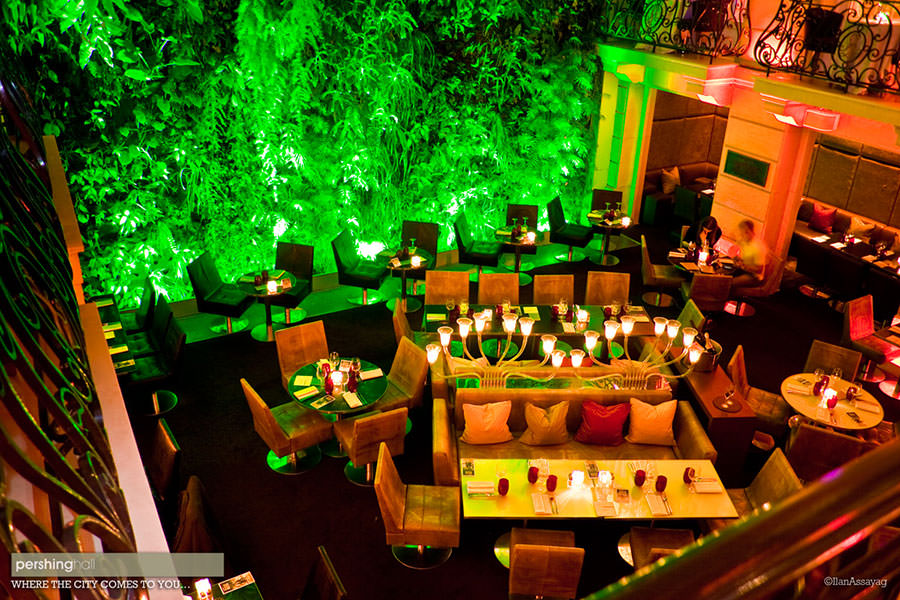 10. Eugene Eugene
You might be the type of person to enjoy going out of Paris on your sundays. Puteaux is right next to Paris, is the right place for you; we still have fun saying it is the suburb. The venue serves a great & tasteful brunch on their outdoor terrace, and some fantastic indoor salon decorated with abundant vegetation and flowers. You might enjoy the freshly squeezed juice bar, the selection of tea, the buffet itself is extremely well thoughts, with a mix of pastries, salads, marinated fishes, graines, cereals, fruits . For the sweet tooths, you will adore the pecan tarts, 'ile flotante', and some others typical french desert. Eugene Eugene is also known for the quality of the product they are using. An ideal place to chill all sunday afternoon with your friends and families.
* Eugène Eugène, 38-40 Rue Eugène Eichenberger, 92800 Puteaux . Téléphone :0033 (0)1 41 38 40 00