Foremost, we wanted to wish you a wonderful Happy new year 2016. May God pour love and care on you, may your days be filled with happiness and joy , be fortune and sumptuous ! You can also start making plans and getting ready to start putting those plans into action. I am certain you will have your own resolution, but for now, I just wish you to enjoy the next 365 days !
Writing is part of the things I love doing. No matters how busy I am, I always love to write about life, and the surprises that comes my way. Always looking for inspiration, I would like to talk today about one of the cutest wedding tradition. We have plan so far many different types of weddings, some where nanies were taking care of all the children in separate rooms, it also happened that kids were actually not really invited to the celebration, and finally, which is definitely the one I like the most, the wedding couple were actually inviting the kids to play a part in the wedding ceremony ! Let's explore how you could include kids in your wedding party !
The Flower Girl
Most flower girls carry a basket for their flower petals. The original intention dated back from the victorian era, she was actually used to provide entertainment to guests as she walked down the aisle. Things have changed a little, we don't 'use' children anymore but your guests will be still be delighted to see a cute little girl before the bride. But remember, the younger she is, the less likely she is to stay focused. Yes, kids are unpredictable, that is why we love them so much !!!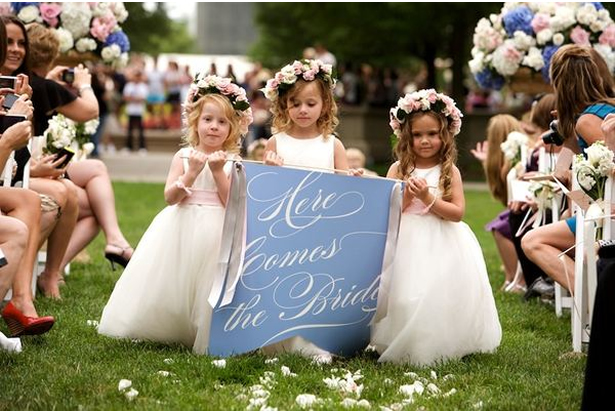 Things has to happen in the right order ( or not ! ) : She is to walk behind the Maid of Honor, but before the bride. Most of the time, she'll strew flower petals along the aisle to announced the arrival of the bride. She can also threw bubbles or mints, or whatever you think it's cute. Her attendance at the reception is not really mandatory, but if she stays, she could also take part of the first dance. Designate one of the bridesmaids to keep an eye on her at all time, she hold her hand and the bridal bouquet in the right hand.
Now, How to dress her is the big question ! Mini bride is always a good call. You just need to ask Vera Wang or Steven Colli to design a miniature version… Many brides would rather she wear white as a symbol of sweetness and purity. Some guests might think it's inappropriate ? Just ask your best friends, and your wedding planner their opinions. Jewelry should be simple and age appropriate as well. A wreath of flowers or straw hat wrap atop her head is always a food idea.
The Ring bearer
One of your biggest concern is to have you ring lost before the ceremony ? There is a great solution to that. Give that responsibility a little boy ideally aged under seven years old. After the groomsmen make their way down the aisle, your littlest wedding attendants will make his debut. While often one of the cutest parts of the ceremony, there is also opportunity for some mishaps given the ring bearer's very young age. The young boy often has a special connection to the bride and groom. He could be related to them or simply be a family friend.
You will need to find a brave and responsible young man ! If the child you have in mind is too young, he could be escorted down the aisle by one of your bridesmaid. Seat his parents on the aisle, right near the front so that he can see them and won't feel stressed. Ask a groomsman to make sure he uses the restroom before the ceremony. Place the rings on the pillow and wait to give him the pillow until right before he starts walking down the aisle. It is wise to tight the rings on the cushion, so that they can't fall.
The ring bearer could wear a tiny tuxedo. A white outfit is always a great idea ! For the littlest ring bearers, an Eton jacket with short pants is a classic look. You can find the suits at bridal shops, or department stores. It would be good manners to help pay for the outfit.
The Page Boy
This type of wedding attendant is a little less common than it used to be, but it is still a nice way to include young relatives in a wedding. You probably saw that special attendant at British royal weddings. Traditionally, he carry the bride's train, especially if she is wearing a dress with a very long train. The page boys are generally no younger than age seven because of the difficulty to manage her train.