Your best friend is getting married, and has chosen you to be his best man! What a great honor! You are very excited as the big day approaches, but this privilege also comes with several important responsibilities to fulfill, starting with planning the bachelor party. And the first thing that comes to your mind is probably a bunch of tipsy guys in a strip club, right? We can surely do better than that!
In today's blog post, I will discuss the origins of the bachelor party and give you some advice for making this party a successful and classy event that your buddy will remember for a lifetime !
Most wedding traditions take their origins from ancient times. Back in the 5th century before Christ, the Spartans were the first to hold a fancy dinner for the groom-to-be on the night before the wedding day. It was designed to celebrate the rite of passage from single life to that of a married man. Later, in the 50's, it was named 'gentleman's dinner' and was often thrown by the groom's father.
The dinner slowly transformed into a party, and increasingly became an opportunity for the groom to have one last night of freedom before settling down with his wife. Therefore, it became an occasion to do all those things soon to be forbidden after the vows had been spoken. Here came the gambling, the strippers, and the huge amounts of alcohol. In our mind, such parties don't really honor the bride-to-be and send the wrong message regarding the true nature of a marriage.
Indeed, a bachelor party does not mark the end of freedom, but the beginning of a new chapter in a couple's life. Marriage may indeed give the groom less time to hang with his buddies, so this party should be an opportunity for great male bonding and another chance to do activities that may become less frequent post-marriage, and honor the ancient traditions!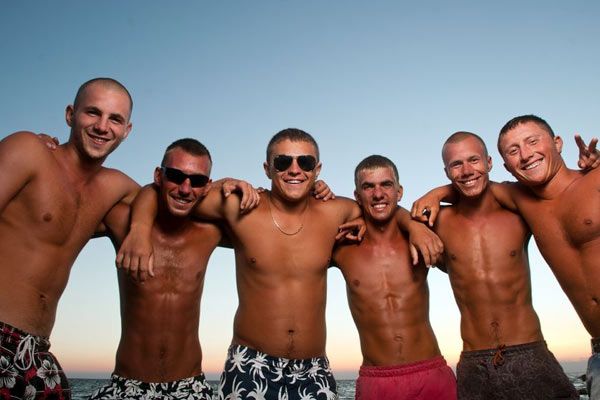 Planning a Bachelor Party
We all remember the hilarious movie 'The Hang Over' ! Let's try not to plan a remake! Of course, I would love helping you plan this event, but you should be doing this on your own. I have written down some ideas on how to make this party a real success. Of course, you should remember when planning the bachelor party that your best friend will get married very soon. You don't want to risk breaking any bones!
Make sure the date you will choose for the party won't conflict with the rehearsal dinner. Most rehersal dinners are held the day before the wedding, so give yourself—and your friend a few days of recovery time!
The very first thing to do is to choose an activity or a theme to center the event around. There are tons of activities that will get your heart pumping. How does spending a day at the golf course, followed by a treatment at the spa sound? If that's too classy, perhaps, then take a weekend by the sea and include water activities like a deep sea fishing trip. You could charter a boat on the coast, rent jet skis, and work on your tan. If you feel like connecting with nature, go camping! A break in the mountains is always nice. (I can't help picturing 'Brokeback Mountain' … but of course, I was referring to the nature!) Enjoy the sunset, hiking and surround your pals with some wild life. You could always drink water from the stream, but nature doesn't mean alcohol is forbidden! Perhaps you could design a really strong signature cocktail with a funny name in honor of your buddy.
Planning a game of soccer or bowling is always a good choice. For the occasion, you could rent an Lamborghini or a Ferrari, and play a selection of your best friend's favorite music. (Avoid « I kissed a girl » by Katy Perry!) I think it is always nice to include memories of your friendship in the event. Remember why and how the groom to be became your best friend, and try to honor the fantastic years you spent together as single guys. You could also get inspired by the movie 'Ocean's 12', a casino night complete with a paid dealer could be really fun. It's always nice to surprise your friend with a new adventure!
Remember that no matter what you have planned, the day should be followed by a meal. Let's honor those Spartans with wines and goat cheese! Anything from a backyard barbecue, a fancy picnic with bubbles, to a 5 courses meal in an upscale restaurant works. You probably know what your best friend gets turned on by in terms of food! The dinner is also a perfect occasion for poignant toasts. Perhaps there are words of wisdom or heartfelt memories that you wouldn't like saying in front of hundreds of guests the day of the wedding. So use the occasion of the bachelor party to celebrate your friendship!
« Friendship and laughter are medicine for the soul »
Sumptuous Events, destination wedding planner in Paris