If you want to have a fantastic wedding, the whole unique experience should start with a memorable proposal. It is a special moment when a couple decides to seal their love. Getting engaged means giving a promise to spend the rest of the life together and take care of each other for eternity, 'until the end of time'.
Soon after the New year, Fawwaaz, originally from Trinidad & Tobago, looked for our event planning help. His wish was to create the most phenomenal proposal in Paris ever for the incredible woman he is deeply in love.
"Together, we came up with a plan that until now could have been seen only in fairy tales !"
As we all know, there can be hardly a better place than Paris to celebrate love and joy de vivre.Thus, he immediately knew that in this city, there must be a perfect spot to ask his darling to be always with him. Remarkably, for both of them, it was the first time to discover Paris, and not surprisingly, they fell under its spell.During one week of wandering around this magical city, they were discovering its magnificent monuments, excellent museums, and world-class bistros and restaurant.
In Paris, love can be breathed in any corner.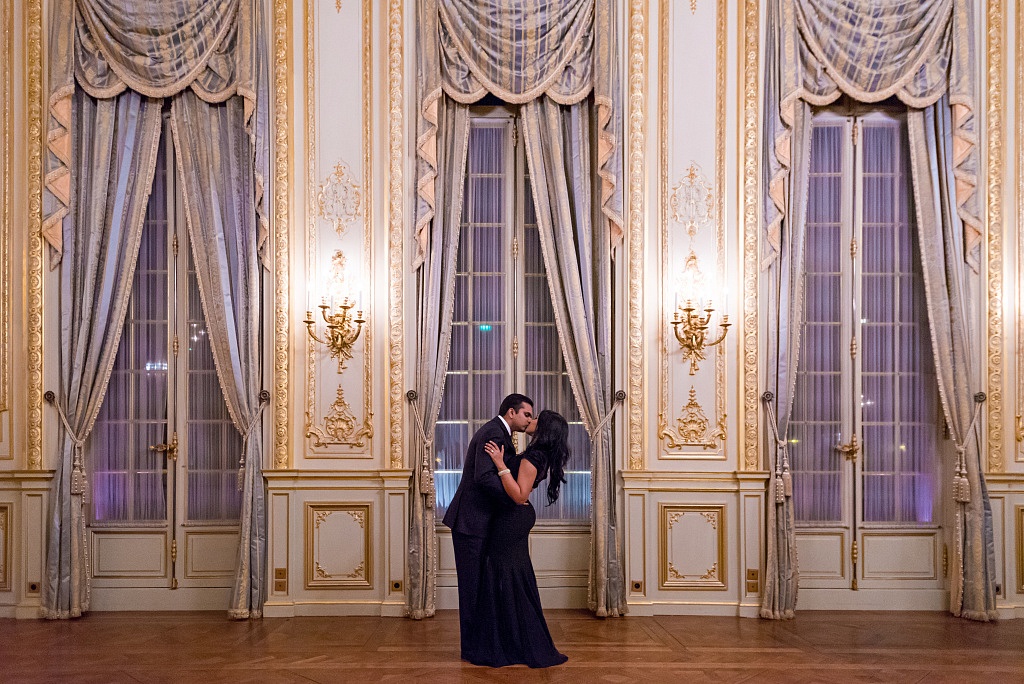 Sarah enjoyed walking in the luxury shopping district and perfecting her already fabulous style. At night, they had a duplex at the Shangri-La Paris in relax, which they soon started to call a home away from home. This is how the magic unfolded on the weekend of the 5th of February :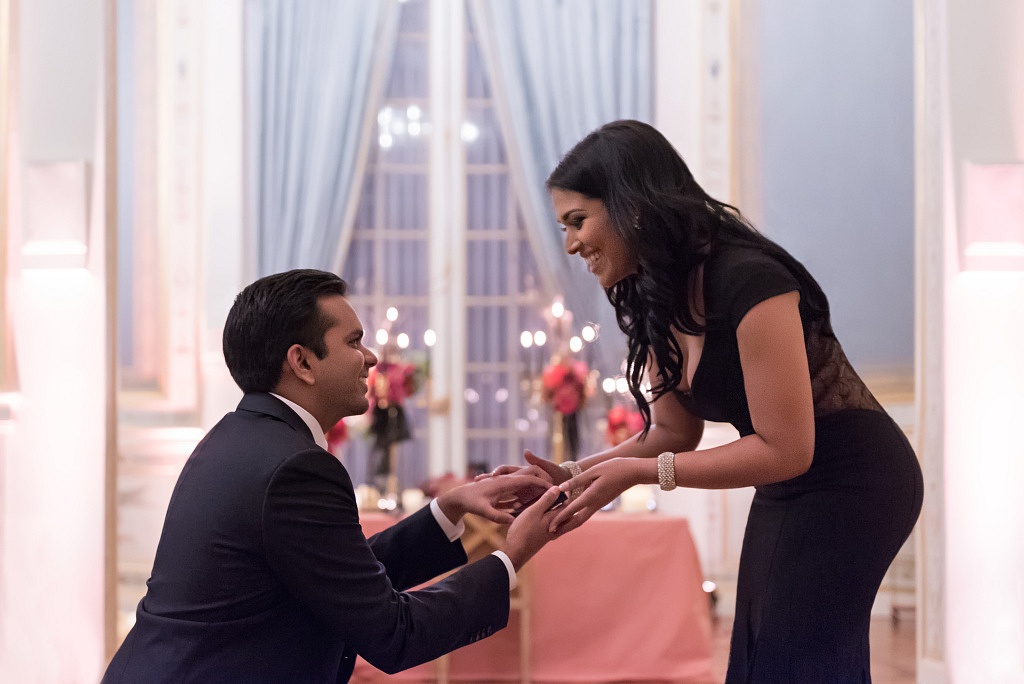 The day before the proposal, we delivered to their room a personal calligraphed invitation to a Fashion Gala on Place de la Concorde. The invitation mentioned that a car would pick them up at the hotel front by 7 pm. In fact, there was no gala, and that was just an excuse for Sarah to get her hair and makeup done before the event. Fawwaaz knew she would love to look gorgeous on their pictures.
Early in the afternoon, Sarah had a 2-hour spa treatment. Later, they enjoyed a private cruise with champagne & canapés. To give Sarah a little hint of what was going on, we prepared a playlist of her favorite music. Back in the hotel, Sarah received a hair and make artist service to reveal her beauty fully. Dressed in a magnificent black dressed, Sarah & Fawwaaz went down to the lobby.
A Bentley was indeed waiting for them.
But, soon after the departure to the location where the game was supposed to be hosted, the driver returned to the Hotel.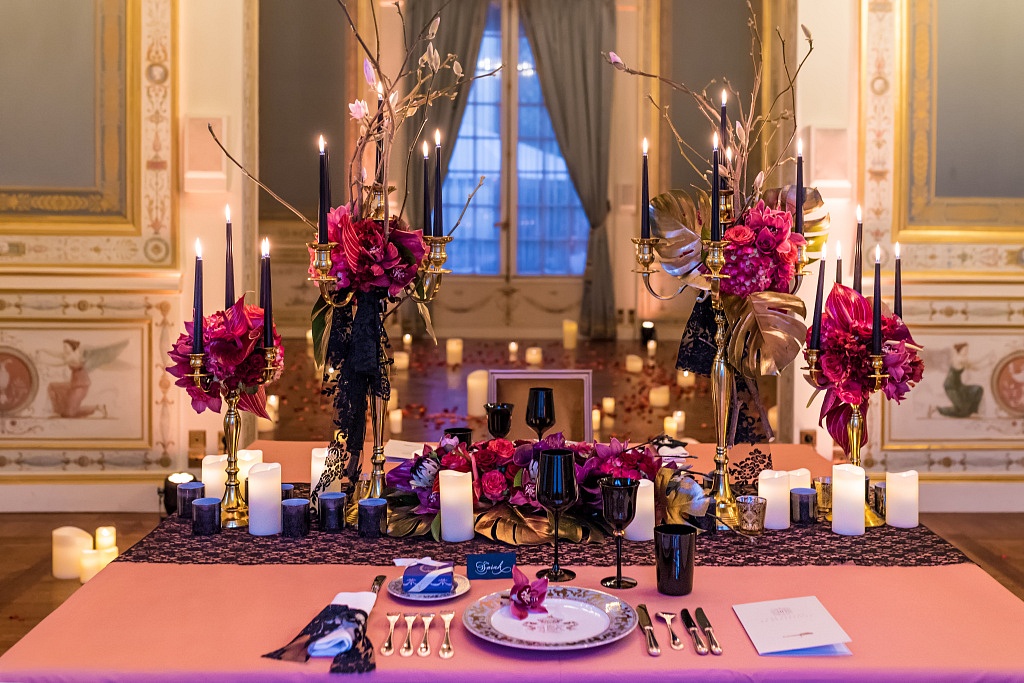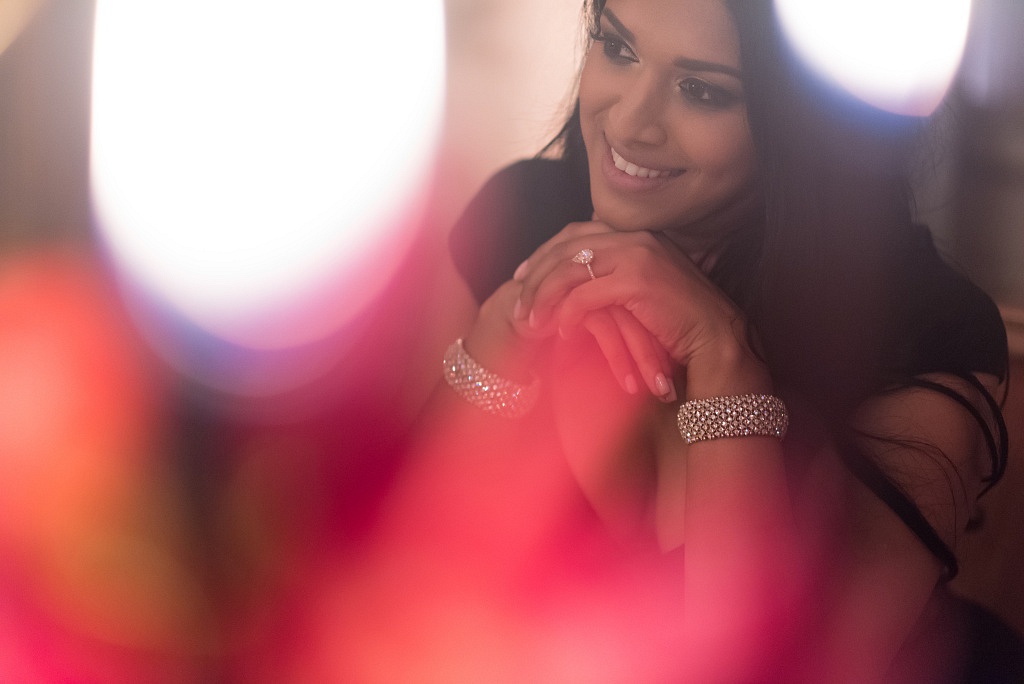 Fawwaaz acted perfectly, although he was surprised. Of course, our idea to spice things up was to make them confused. As they went back to the lobby, Sarah found a rose petal on the marble floor, leading the path to the iconic Napoleon grand stairs. They followed with excitement. The atmosphere was electric, and at this point, she understood what was happening. For the occasion, we booked the entire ornate salon of the hotel, on the first floor. Fawwaaz guided Sarah to the chamber filled with candles and rose petals.
At the moment they entered, a classical duet started to play a piece from Cristina Perri's ' A Thousand Years.'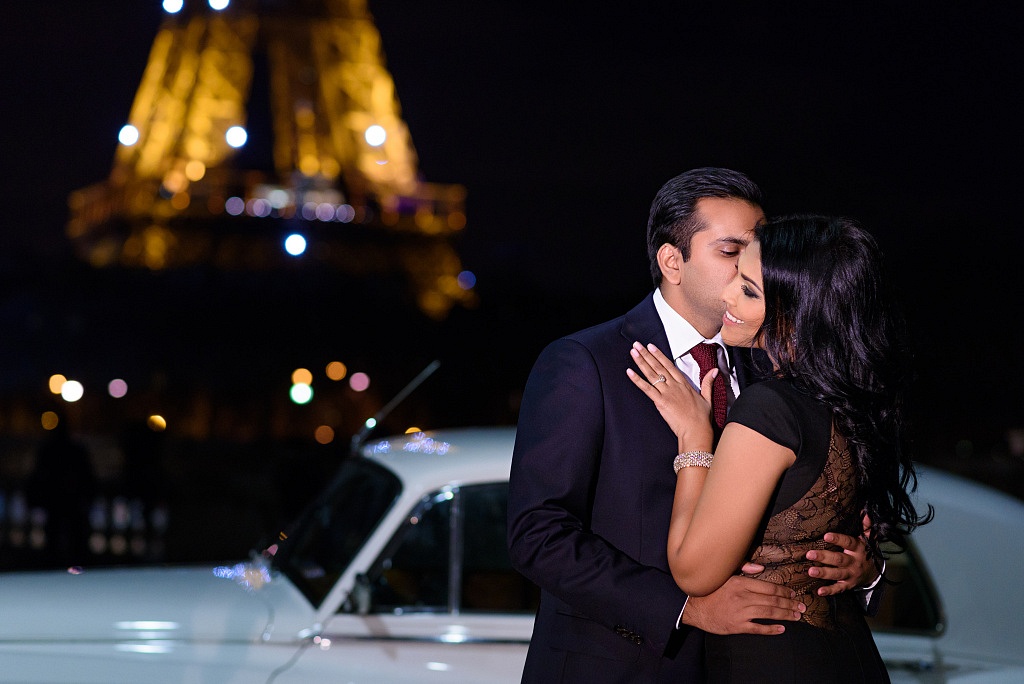 Fawwaaz invited his love for a dance in the center of the room, and then he bent on his knee to propose. Yes, did she say with the most joyful smile. Then, we invited them to take a ride in the Bentley, which was the great opportunity for the videographer and photographer to capture the best moments.
Back to the hotel, they enjoyed an imperial menu, catered and designed by the private chef of the Palace on a glamorous table scale designed in grand style. It was a great honor and pride for us to help them spend a night to remember for many years to come and to see their eyes sparkling of happiness ! It was a pleasure to share with you this little insight and to tell you about Sarah and Fawwaaz and their love and their experience.
CREDIT
PHOTOGRAPHER : Kiss me in Paris – VIDEOGRAPHER: Julia Swell – PLANNING, DECOR & FLORAL : Sumptuous Events Paris – LIGHTING : PhOS Location – CLASSICAL DUET : A vos cordes Frotet – HAIR & MAKE UP : Onorina Jomir – CALLIGRAPHY : Studio French Blue – VENUE : The Shangri-La Hôtel Paris – BENTLEY : Ancienne de Prestige – BOAT : Seine Avenue